Telemedicine Video Visits
Our telemedicine program is now providing both follow up and some new patient visits with our ACHD providers via video chat using a mobile device. 
How to get set up for a virtual visit:
Setup requires any smartphone mobile device – iPhone, iPad, Android phone or tablet.
Before your visit, download the MyChart app in the app store or in google play.
Set up your Columbia Connect account:

Self Sign Up:

Open the MyChart app or log into https://www.myconnectnyc.org
Select "Columbia University Irving Medical Center Connect"
Click on "Sign Up Now"
Click on "No Activation Code? Self Sign Up"
Enter demographic information
Answer the security question
Create your username and password
Opt in or out of getting email notifications

OR use an Activation Link:

After speaking with our office we will send you an activation link to your email
Open email from MyConnectNYC.org
Follow account set-up instructions
Click Sign-In
Review and Accept Terms and Conditions
Now you are ready to start your virtual visit!
To schedule a visit with one of our cardiologists or nurse practitioners, first email one of our office staff to schedule. Once scheduled, follow the instructions below:
Open your MyChart app
Log into your Connect account
Click "Appointments"
Click on the appropriate Video Visit appointment
Once green, click the "Begin Visit" button at the bottom of your screen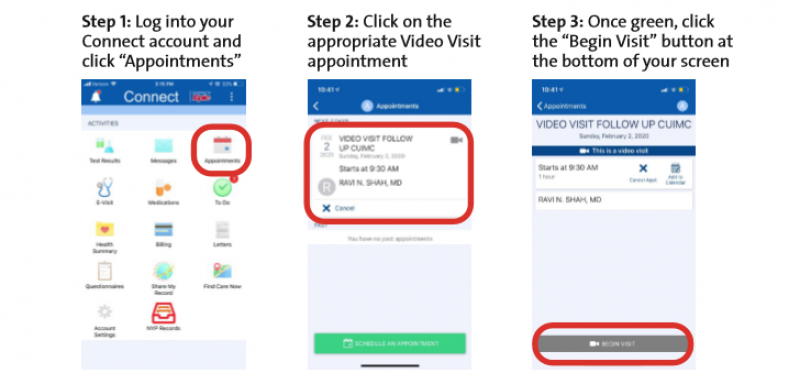 *Do not click on the Stethoscope "E-Visit" icon as this is an entirely different tool and is not used for video visits
Reminders and Tips
Make sure you are in a quiet, well-lit room with a strong Wi-Fi signal
Make sure you are using the latest version of the app on your phone or tablet
You, or your physician, can start the video visit up to 15 minutes prior to the scheduled time
If you minimize the app during your visit, the camera will pause but the microphone will still be on
If your connection gets lost, you can restart the video visit by logging back into  your appointment
For technical support contact Connect Technical Support at (646) 962-4200.